Mint extract is such a versatile ingredient to have as part of your herbal pantry. It's easy to make, takes very little of your valuable hands-on time, and can also double as a medicinal tincture to support your digestive health. Plus, this homemade mint extract is made with only 2 ingredients, unless you also include your time, love, and tenderness (and let's be honest, these are the most important ingredients).
HERE YOU'LL FIND:
The Medicinal Uses of Mint
Reasons to Make Your Own Mint Extract
How to Make Mint Extract (recipe)
The Many Ways to Use Your Mint Extract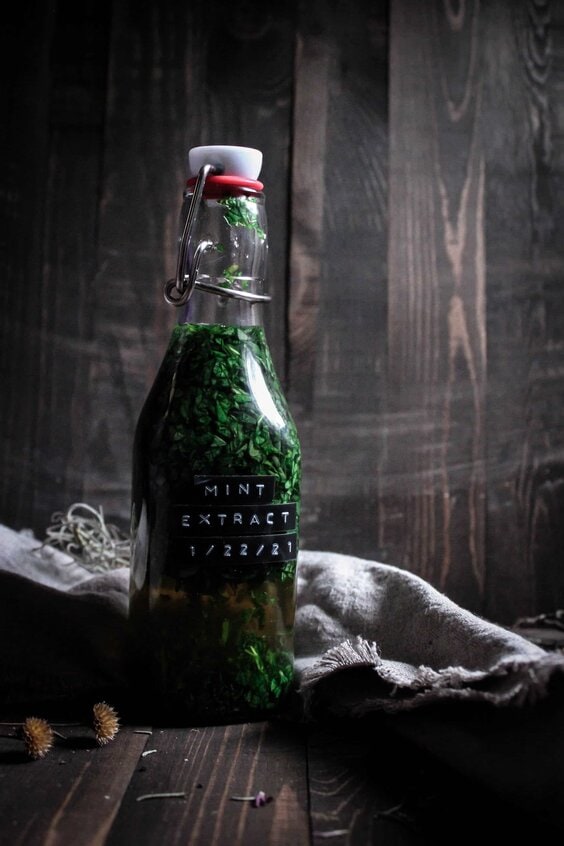 The Medicinal Uses of Mint
Mint has a long history of use in both food and medicine. Today, the most popular use of mint is in digestive health. Mint has great carminative properties that help make our digestive process free and easy, helping to prevent gas and bloating, nausea, indigestion, and more.
And while the many, many plants that we call mint all have some medicinal value, peppermint (Mentha x piperita) is the most often used in medicine. Due to its high menthol content, peppermint is the most medicinally potent of the mints in the Mentha genus.
>> You can read more about the food & medicine of mint HERE!
When making your own mint extract, you can really use any type of mint and can customize to your intended usage. Keep reading for ideas on how to use your homemade mint extract.
Why Make Your Own Mint Extract?
If you're thinking making your own mint extract is cool and all, but I've had the same bottle of store-bought extract for 8 years now and probably won't need a new one for another 8 years, you might be surprised to learn about all the different ways you can use your mint extract.
Not only is making your own natural flavoring extracts an empowering process and quality hands-on time with the plants, you have complete control over the ingredients.
McCormick makes one of the most accessible "real mint extracts" on the market. The ingredients on the back of the bottle read: alcohol, water, & oil of peppermint.
Those ingredients may not sound that bad, but here's what I read when I see those ingredients:
"peppermint" = likely conventionally grown with chemical pesticides, fungicides, or herbicides
"oil of peppermint" = unclear extraction process that may include harmful, petroleum-based solvents like hexane
Making your own takes all the guess work out of it. You'll know, without question, that you're using and consuming quality ingredients.
How to Make Mint Extract
Making a mint extract is no different than making a medicinal tincture. Essentially, you let vodka infuse with fresh mint for 4-6 weeks, strain, and that's it. It takes little time, only 2 ingredients, and you end up with a versatile product for use as both food and medicine.
Makes ~1 cup (8 fl. oz.)
MATERIALS
~8 oz. vodka (80-proof or higher)
~3/4 cup fresh mint, finely chopped, & loosely packed (organic if possible)
Glass jar with a tight-fitting lid (at least 8 fl. oz.)
Small funnel
Several layers of cheesecloth, an unbleached coffee filter, a clean scrap of tee-shirt, or a nut milk bag for straining
METHOD
Add mint to a sterilized glass jar, then cover with vodka, ensuring the herb is covered by the alcohol by ~1-2 inches.
Seal jar with a tight-fitting lid and be sure to label with ingredients and date. Give jar a vigorous shake and then place somewhere dark and cool for ~4-6 weeks, shaking vigorously about once a day or as often as you remember.
After about 4-6 weeks, the extract is ready to strain. Use a fine mesh strainer nested into a funnel and several layers of cheesecloth, a clean coffee filter, or even a clean scrap of old t-shirt to strain the alcohol into another sterilized glass jar. To prevent your alcohol from getting cloudy, do not press or squeeze the mint, just let the alcohol run through on its own. Compost mint when finished.
Store your mint extract in a glass jar or bottle with a tight fitting lid or cork, in a cool and dark location. If stored properly, the high alcohol content allows for shelf-stability for ~1-4 years.
To make an ultra-potent extract, try a double extraction. Follow the instructions above, but strain out the mint and replace with fresh at about 2-3 weeks. Then continue to infuse for another 2-3 weeks before straining one final time.
---
For more plant magic & herbal wellness in your life, be sure to follow along on ➡️ Instagram, Facebook, Pinterest, or Twitter, & snag my herbal 📚 eBooks Nourishing Herbal Gifts & Holiday Pies from the (Un)Bakery. 🌿 And please don't forget to tag me in your snaps 📸 @_botanyculture_. I love to see all the plant magic you make happen!
How to Use Your Homemade Mint Extract
It's not just for baking!
Here are some easy, delicious, and nutritious ways to use your homemade mint extract, ways that aren't exclusively baking!
Perk up your digestion! Carry a small dropper bottle of your mint extract around with you. Take a few drops before or after a meal to help support healthy digestion, especially if you frequently experience gas and bloating, indigestion, or stomach cramping after a meal.
Help alleviate or lessen morning sickness! Wellness Mama shares how her peppermint tincture helps get her through the first 3 months of pregnancy.
Make a minty cocktail or non-alcoholic spritzer. Try a festive peppermint martini or a cucumber and lime seltzer with a few drops of mint extract. Get creative.
Freshen up your water! In addition to its beneficial effects on our digestion, mint is also an excellent breath freshener. Just add a few drops to your water bottle.
Gift it! Homemade herbal extracts make great gifts! Perhaps as part of a hot cocoa gift set? Or as part of a trio of hand-crafted extracts? For more ideas on herbal gifting, how to make your own, and recipes, check out my ebook Nourishing Herbal Gifts.
Sharing is caring.
If you enjoyed this content, please help spread the magic & medicine of the plants by sharing this post with your friends! And don't forget to tag me in your snaps @_botanyculture_ and hashtag it #botanyculture.
DISCLAIMER: The information given in this article is intended for educational purposes only. If you have any concerns at all, it's always a good idea to check with your health practitioner before consuming certain herbs & medicinal foods, especially if taking any prescription medications.