You could just sit down and drink it like any old cup of tea, but there are so many other things to do with calendula tea and still reap the rewards of its medicine.
I'm a big fan of things that have multiple uses. As a graduate student, I studied permaculture and I think that's where I get it. One of the principles of Permaculture Design is "each element performs many functions." In other words, if something doesn't have more than one purpose or use, it's probably taking up too much space. It's the way of nature.
Just like humans, plants exist with more than one purpose. They have an environmental and ecological role, as well as often numerous nutritional and/or medicinal benefits to both animals and humans. Likewise, here's calendula tea, one herb and one herbal preparation (ie. tea) that has many uses and benefits.
5 ways to use calendula tea
1. Calendula Tea Compress – A couple of years ago, I served as a steward for a small urban medicinal and edible garden. I took care of the land and lead volunteer and internship programs for which I developed and taught curriculum focused on permaculture, herbal medicine, and basic homesteading. I have to say, there's no greater honor than acknowledging and accepting the responsibility to care for this planet, and then having the privilege of time and space to do so.
One of my favorite activities with the interns was the plant spirit meditations we'd do after a long day's work on the land. Together we'd choose a plant, make some kind of medicinal preparation with it, and then I'd guide the interns in a short meditation.
One afternoon, we sat with calendula. I prepared cold compresses soaked in a strong calendula tea and as we sat with the plant, compresses placed over our closed eyes, soaking up the heat of the day buried in our skin, we got quiet, gave our complete attention to calendula, and listened to what it had to say.
I've never been one to spoil an ending, so I won't tell you the things calendula whispers about when you get quiet enough to hear. But a simple cold compress soaked in calendula tea can be incredibly soothing to tired and puffy eyes, relaxing for a exhausted mind, and calming to irritated skin.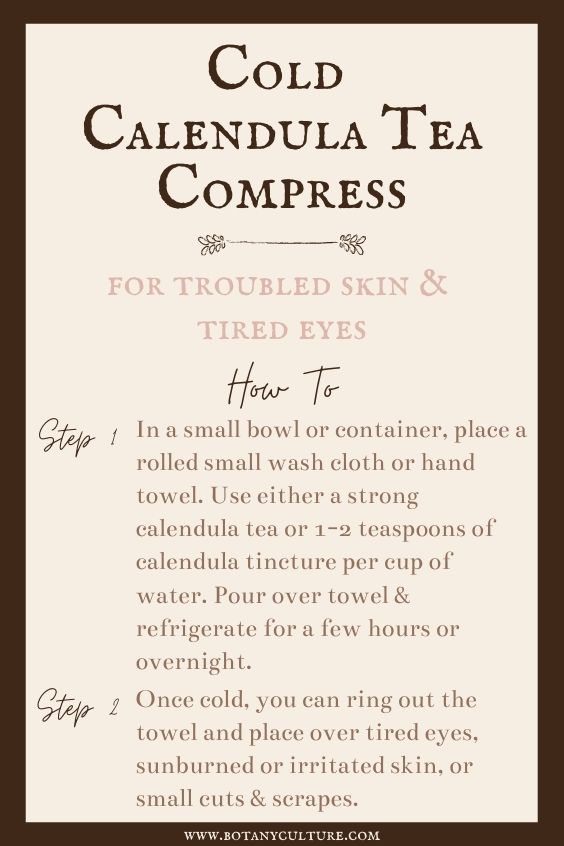 2. Freeze it into first-aid ice cubes. Calendula is a great first aid plant. It's a gentle, but powerful antiseptic that can be used as a topical treatment for wound healing. Matthew Wood, a renowned medical herbalist, said that one of the three qualities that make up the true genius of calendula is its capacity as a wound medicine. In addition to being an effective antiseptic, calendula is also:
Anti-fungal
Antioxidant
Antibacterial
Anti-inflammatory
Demulcent (cooling, soothing, healing, relaxing)
Make calendula tea, cool to room temperature, and then freeze into ice cubes. You can store these ice cubes in the freezer to have on hand to rub over irritated skin or small cuts and scrapes. They make an incredibly soothing and even fun topical treatment for children.
3. Calendula Lemonade – This is as easy as adding ice, lemon juice, and a bit of sweetener to your calendula tea. It's really that simple. Calendula tea is a great remedy for a variety of digestive ailments, including heartburn and peptic ulcers. It helps to stimulate the production and release of bile to optimize the digestive process. And not only is it great for your digestion, but it also provides great support to your immune system.
4. Make Calendula Flower Ice Cubes – Calendula tea ice cubes aren't just for cuts and scrapes. They're also a great way to enliven your cocktails and mocktails with a little bit of charming plant medicine. After you've made your calendula tea, cool to room temperature, pour into ice cube trays, & pop in a flower for a fanciful dash of sunshine in your drinks.
Can you imagine a champagne flute filled with a stack of calendula tea ice cubes, a lil' bit of some herbaceous gin, and a twist of lemon? Top it off with some effervescent bubbly water and you're living the high life.
Just go ahead and put edible flowers in ice cube trays for the sake of all that's good and beautiful in this world. Why not?!
5. Use it as a base for soups & stews. Because of calendula's immune stimulating and building properties, it's by far one of my favorite herbs to add to homemade medicinal vegetable broths. For when you need a nourishing broth, but don't have the time or ingredients you want, a simple calendula tea can serve as the base for your soup.
When I'm in need of a quick meal, I'll sauté some veggies, pour in some calendula tea for added nourishment, and add rice noodles. Alternatively, you could just throw a couple of calendula tea bags at the end of cooking, and then remove before serving. It's a nearly instant, but lovingly homemade and incredibly nourishing (and easy!) meal taken to a whole new level of healthy and health-supporting by the simple addition of calendula tea.
I hope this help you reimagine calendula tea; it's not just for drinking. The benefits of calendula tea go far beyond the medicine in sipping on a hot (or iced!) beverage.
Have fun experimenting! I'd love to hear about the ways you use calendula tea!
P.S. If you like what you've seen here, I'd really love to share more with you! Please subscribe to my monthly newsletter for a monthly dose of all things plant-inspired.